ESF 921 Insect Cell Culture Medium, Protein Free
Référence 96-001-01
Conditionnement : 1LBottle
Contactez votre distributeur local :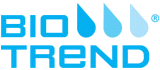 Téléphone : +1 850 650 7790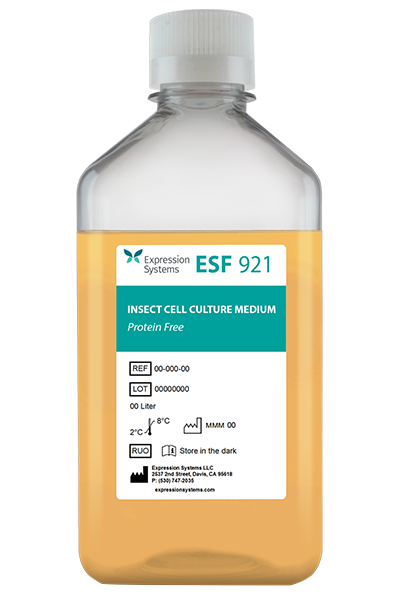 ESF 921™ Insect Cell Culture Medium is a complete serum-free, protein-free medium developed for robust cell growth, protein production and baculovirus vector production for a wide range of insect cells including Sf9, Sf21, Tni (High Five™), and Drosophila S2. ESF 921 contains L-Glutamine and Kolliphor® P188 (Pluronic F68).
Description
Widely recognized as the industry standard for BEVS applications, Expression Systems insect cell culture media are designed for maximum virus and protein expression. This serum-free, protein-free insect cell culture medium provides unmatched cell growth and expression for a wide range of insect cells including Sf9, Sf21, Tni (High FiveTM) and Drosophila S2.
Sf9 cell densities of 15 x 106 cells/ml or greater
Produces high titer baculovirus vector yields of 5E8 to 3E9 infectious units/ml
Available in 1L bottles and media transfer bags of 10, 20 and 50L volumes
Complete, ready-to-use, contains L-glutamine
Ideal for scale-up manufacturing
Works with a wide variety of baculovirus and host cell platforms
Adapted cells available
Superior Growth and Reproducibility
Expression Systems' ESF 921TM Insect Cell Culture Medium is designed for maximum expression for applications such as; gene therapy drug substance, virus-like particles, virus vectors and proteins of interest. ESF 921TM is widely recognized as the industry standard for the baculovirus and insect host cell system. The line graph presents reproducible growth curves for Sf9 cell cultures in nine different lots of ESF 921TM medium manufactured over a period of 12 months.
Sf9 cells from a mid-log phase culture were seeded into *9 different lots of ESF 921TM at a density of 0.75×10,6/ml. Cultures were sampled daily to determine viable cell count.
Specification
Documents
References
Aumiller, J. J., Mabashi-Asazuma, H., Hillar, A., Shi, X., & Jarvis, D. L. (2012). A new glycoengineered insect cell line with an inducibly mammalianized protein N-glycosylation pathway. Glycobiology, 22(3), 417–428. http://doi.org/10.1093/glycob/cwr160 Hanson, Michael A. et al. "Profiling of Membrane Protein Variants in a Baculovirus System by Coupling Cell-Surface Detection with Small-Scale Parallel Expression." Protein expression and purification 56.1 (2007): 85–92. PMC. Web. 21 Feb. 2017. Zou, Y., Weis, W. I., & Kobilka, B. K. (2012). N-Terminal T4 Lysozyme Fusion Facilitates Crystallization of a G Protein Coupled Receptor. PLoS ONE, 7(10), e46039. http://doi.org/10.1371/journal.pone.0046039 Weingartl HM, Zhang S, Marszal P, McGreevy A, Burton L, Wilson WC (2014) Rift Valley Fever Virus Incorporates the 78 kDa Glycoprotein into Virions Matured in Mosquito C6/36 Cells. PLoS ONE 9(1): e87385. doi:10.1371/journal.pone.0087385
Media Transfer Bags
Expression Systems offers ESF 921 packaged in convenient media transfer bags. Multiple connection options allow for media to be easily transferred into traditional bioreactors and single use bag bioreactors. Tubing is appropriate for most tube welders and connections are compatible with both traditional and single use bioreactor systems.
Multiple tubing sizes for welding compatibility and flow rate flexibility (ID x OD)
A variety of mechanical connection methods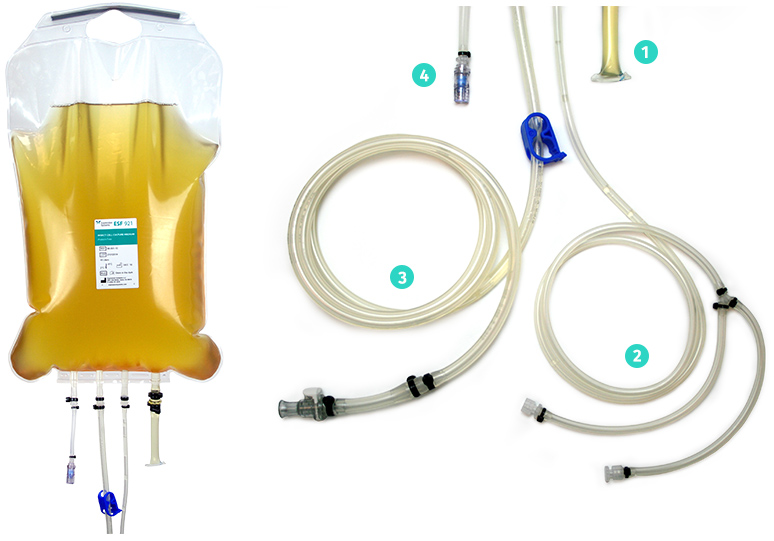 From the Right on the Tubing/Port Picture Above:
3-inch silicone tubing (1/8" ID x ¼" OD) with Needle Free Swabable Valve
66-inch C-Flex 082 tubing (3/16" ID x 3/8" OD) with Male MPC Connector and Female MPC Cap
42-inch C-Flex 082 tubing (1/8" ID x ¼" OD) with Y-connector to 8-inch C-Flex tubing terminating witheither Male Luer with 1/8" barb or Female Luer (capped)
Filling Port
Vous serez peut-être également intéressé par les produits suivants :