FDG [Fluorescein di-beta-D-galactopyranoside] *CAS#: 17817-20-8*
| | | | | | | | | |
| --- | --- | --- | --- | --- | --- | --- | --- | --- |
| | | | Correction Factor (260 nm) | Correction Factor (280 nm) | Extinction coefficient (cm -1 M -1) | | | |
Although chromogenic assays of beta-galactosidase activity (i.e. X-Gal) are still widely used, the recent advance in fluorescence instrumentation has made fluorogenic substrates (such as FDG and MUG) be several orders of magnitude more sensitive. FDG is considered to be one of the most sensitive fluorogenic substrates available for detecting beta-galactosidase. The colorless and nonfluorescent FDG is hydrolyzed to highly fluorescent fluorescein, which exhibits excellent spectral properties that match the optimal detection window of most fluorescence instruments. Galactosidase-catalyzed hydrolysis of FDG can be followed by fluorescence increase around 520 nm. Alternatively, FDG can also be used to detect ?-galactosidase in a chromogenic mode since the enzymatic product (fluorescein) exhibits a large extinction coefficient (close to 100,000 cm-1mol-1). FDG has been widely used for identifying LacZ-positive cells with fluorescence microscopy and flow cytometry. It is also used to detect beta-galactosidase expression in live cells. Fluorescence-based assays employing FDG are also reported to be 100 to 1000-fold more sensitive than radioisotope-based ELISAs.
Calculators
Common stock solution preparation
Table 1.
Volume of DMSO needed to reconstitute specific mass of FDG [Fluorescein di-beta-D-galactopyranoside] *CAS#: 17817-20-8* to given concentration. Note that volume is
only
for preparing stock solution. Refer to sample experimental protocol for appropriate experimental/physiological buffers.
| | | | | | |
| --- | --- | --- | --- | --- | --- |
| | 0.1 mg | 0.5 mg | 1 mg | 5 mg | 10 mg |
| 1 mM | 152.304 µL | 761.522 µL | 1.523 mL | 7.615 mL | 15.23 mL |
| 5 mM | 30.461 µL | 152.304 µL | 304.609 µL | 1.523 mL | 3.046 mL |
| 10 mM | 15.23 µL | 76.152 µL | 152.304 µL | 761.522 µL | 1.523 mL |
Molarity calculator
Enter any two values (mass, volume, concentration) to calculate the third.
Mass (

Calculate

)
Molecular weight
Volume (

Calculate

)
Concentration (

Calculate

)
Moles
/
=
x
=
Spectrum
Open in Advanced Spectrum Viewer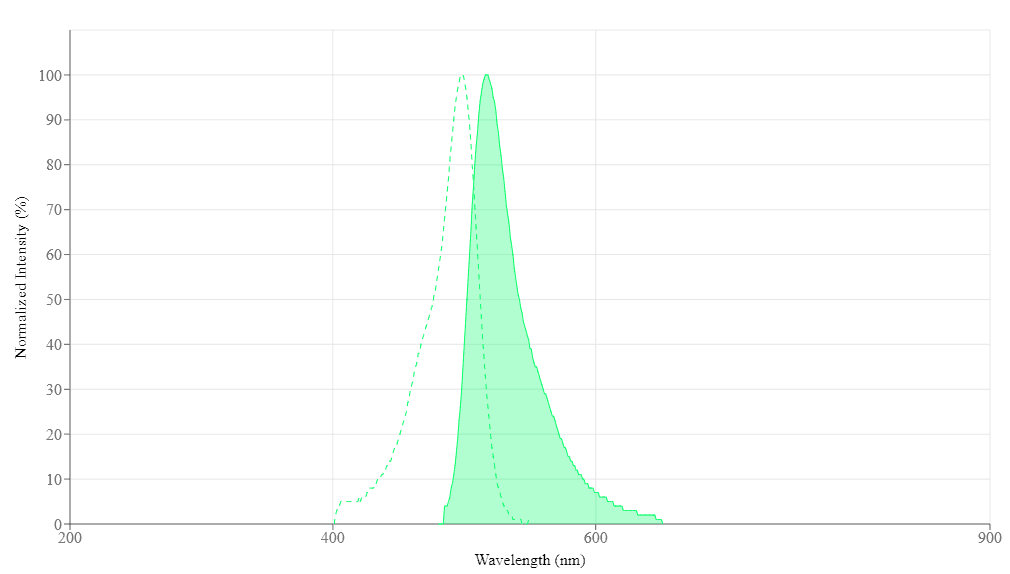 Spectral properties
| | |
| --- | --- |
| Absorbance (nm) | 487 |
| Correction Factor (260 nm) | 0.32 |
| Correction Factor (280 nm) | 0.35 |
| Extinction coefficient (cm -1 M -1) | 800001 |
| Excitation (nm) | 498 |
| Emission (nm) | 517 |
| Quantum yield | 0.79001, 0.952 |
Images
Figure 1.
Chemical structure for FDG [Fluorescein di-beta-D-galactopyranoside] *CAS#: 17817-20-8*
Citations
View all 6 citations: Citation Explorer
Capturing nascent extracellular vesicles by metabolic glycan labeling-assisted microfluidics
Authors:
Wu, Qiuyue and Wang, Wencheng and Zhang, Chi and You, Zhenlong and Zeng, Yinyan and Lu, Yinzhu and Zhang, Suhui and Li, Xingrui and Yang, Chaoyong and Song, Yanling
Journal:
Nature Communications
(2023)
: 6541
Temporal Differentiation of Extracellular Vesicles by Metabolic Glycan Labeling-Assisted Microfluidics
Authors:
Wu, Qiuyue and Wang, Wencheng and Zhang, Chi and You, Zhenlong and Zeng, Yinyan and Lu, Yinzhu and Zhang, Suhui and Li, Xingrui and Yang, Chaoyong and Song, Yanling
Journal:
(2023)
Aptamer/antibody sandwich method for digital detection of SARS-CoV2 nucleocapsid protein
Authors:
Ge, Chenchen and Feng, Juan and Zhang, Jiaming and Hu, Kai and Wang, Dou and Zha, Ling and Hu, Xuejuan and Li, Rongsong
Journal:
Talanta
(2021)
: 122847
Gfi1b regulates the level of Wnt/β-catenin signaling in hematopoietic stem cells and megakaryocytes
Authors:
Shooshtarizadeh, Peiman and Helness, Anne and Vadnais, Charles and Brouwer, Nelleke and Beauchemin, Hugues and Chen, Riyan and Bagci, Halil and Staal, Frank JT and Coté, Jean-Frančois and Möröy, Tarik
Journal:
Nature communications
(2019)
: 1270
A novel dual-well array chip for efficiently trapping single-cell in large isolated micro-well without complicated accessory equipment
Authors:
Wang, Chenyu and Liu, Wenwen and Wei, Qingquan and Ren, Lufeng and Tan, Manqing and Yu, Yude
Journal:
Biomicrofluidics
(2018)
: 034103
BZLF1 Attenuates Transmission of Inflammatory Paracrine Senescence in Epstein-Barr Virus-Infected Cells by Downregulating Tumor Necrosis Factor Alpha
Authors:
Long, Xubing and Li, Yuqing and Yang, Mengtian and Huang, Lu and Gong, Weijie and Kuang, Ersheng
Journal:
Journal of Virology
(2016)
: 7880--7893
References
View all 23 references: Citation Explorer
Microfluidic sequential injection analysis in a short capillary
Authors:
Du WB, Fang Q, Fang ZL.
Journal:
Anal Chem
(2006)
: 6404
Cellular logic with orthogonal ribosomes
Authors:
Rackham O, Chin JW.
Journal:
J Am Chem Soc
(2005)
: 17584
New transport peptides broaden the horizon of applications for peptidic pharmaceuticals
Authors:
Langedijk JP, Olijhoek T, Schut D, Autar R, Meloen RH.
Journal:
Mol Divers
(2004)
: 101
Integration of on-column immobilized enzyme reactor in microchip electrophoresis
Authors:
Park SS, Cho SI, Kim MS, Kim YK, Kim BG.
Journal:
Electrophoresis
(2003)
: 200
Model for focal demyelination of the spinal dorsal columns of transgenic MBP-LacZ mice by phototargeted ablation of oligodendrocytes
Authors:
V, undefined and erluit JL, Bourque JA, Peterson AC, Tetzlaff W.
Journal:
J Neurosci Res
(2000)
: 28
A microplate fluorimetric assay for transfection of the beta-galactosidase reporter gene
Authors:
Rakhmanova VA, MacDonald RC.
Journal:
Anal Biochem
(1998)
: 234
Verapamil inhibition of enzymatic product efflux leads to improved detection of beta-galactosidase activity in lacZ-transfected cells
Authors:
Poot M, Arttamangkul S.
Journal:
Cytometry
(1997)
: 36
Hybridoma screening using an amplified fluorescence microassay to quantify immunoglobulin concentration
Authors:
Li X, Abdi K, Mentzer SJ.
Journal:
Hybridoma
(1995)
: 75
Disruption of the adenosine deaminase (ADA) gene using a dicistronic promoterless construct: production of an ADA-deficient homozygote ES cell line
Authors:
Vaulont S, Daines S, Evans M.
Journal:
Transgenic Res
(1995)
: 247
Experiments in transgenic mice show that hepatocytes are the source for postnatal liver growth and do not stream
Authors:
Kennedy S, Rettinger S, Flye MW, Ponder KP.
Journal:
Hepatology
(1995)
: 160