A fine classification of non-Hodgkin's lymphomas
Accurate knowledge of non-Hodgkin's lymphoma has become a key issue and many advances have been made since the introduction of the WHO classification in 2001. The risk of errors remains higher than in other pathologies, however. There are more than 80 types of non-Hodgkin's lymphoma, some of which are rare and difficult to characterize. The LymphoSign test developed by Genexpath offers a detailed classification of these lymphomas.
The LymphoSign test developed by Genexpath offers precise measurement of the expression signature of more than 130 genes of interest. Based on a patented ligation-dependent PCR technology, the test provides practitioners with detailed and capital knowledge of the data collected.
LymphoSign consists of an in vitro assay and bioinformatics analysis after NGS sequencing. It requires only a small amount of tumor RNA and is optimized for FFPE samples.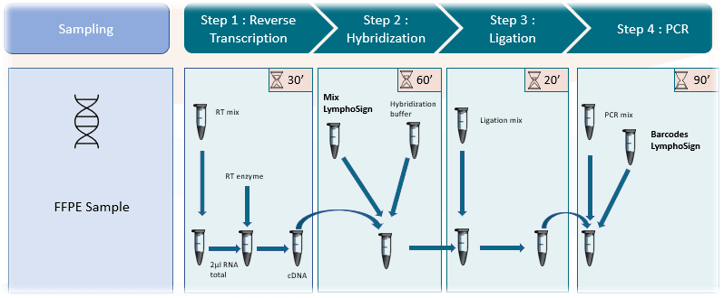 A simple and rapid protocol
The In Vitro test consists of 4 steps with a total duration of approximately 1/2 day including 1h to 1h30 hands-on .
NGS sequencing of the LymphoSign test requires only 100,000 reads per sample.
In addition, LymphoSign can be sequenced with other libraries and barcodes are provided with the kit.
Robust and efficient computer analysis

After NGS sequencing, the FastQ file is uploaded on the RT-MIS platform accessible online to all LymphoSign users.
The RT-MIS software allows rapid processing of sequencing data in order to provide for each sample the quantification of all the markers of the LymphoSign signature. The software includes an artificial intelligence algorithm through the use of Random Forest to propose a classification and provide all the detailed information to users.
The database that trained the Artificial Intelligence contains more than 3000 tumoral samples.
RT-MIS delivers for each sample:
Classification predicted by artificial intelligence
A report in pdf format showing in graphic form the expression signatures of the different genes, whether for B lymphomas or T lymphomas.
Additional characteristics (mutations, etc.)
It also makes it possible to compare the expression levels of the different markers for 2 distinct classes of non-Hodgkin's lymphoma chosen by the user.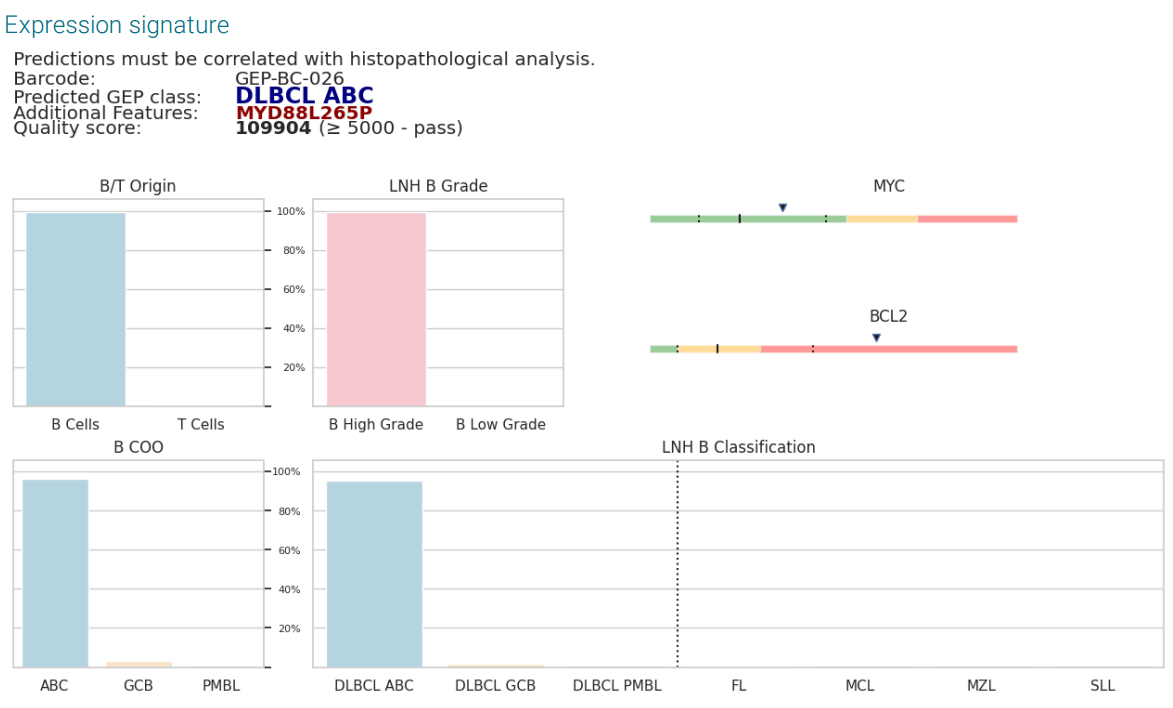 The LymphoSign Test is CE-IVD marked