Tétramères CMH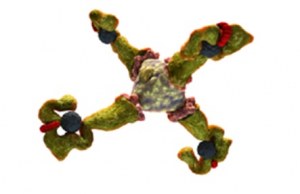 La seule méthode pour directement mesurer les cellules T antigène spécifique.
MHC tetramers are complexes of 4 MHC molecules (Major Histocompatibility Complex) wich are associated with a specific peptide and bound to a fluorochrome.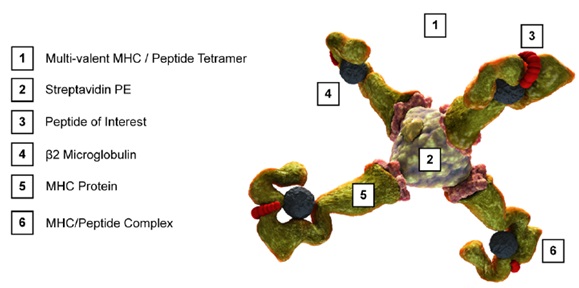 Class I tetramers bind to a distinct set of T cell receptors (TRCs) on a subset of T CD8+ cells, Class II tetramers bind to a distinct population of T CD4+ cells.
The patented MHC iTag tetramers reduce non-specific bindings to allow unique detection and enumeration of Ag specific T cells.

Thus, by mixing Tetramers with PBMCs or whole blood and using flow cytometry as a detection system, a count of all CD4+ or CD8+ T cells that are specific for one peptide and its matched MHC allele is provided, regardless of functionality.

CD1d tetramers
allow
NKT cells
detection.
Advantages:
The only method to detect antigen specific CD4+ or CD8+ T cells ex vivo
Immune responses are targeted to specific allele

Tetramer staining is quantitative
Does not require the use of radioactive isotopes

Rapid: allowing fresh blood (or tissue-derived) sample to be analyzed

Large number of samples can be processed using flow cytometer

Tetramer-labeled

cells remain viable



All specific CTLs are detected
Tetramers can be customized for unique applications

Specific Mutation reducing non specific binding:

The class 1 MHC present a proprietary mutation of HLA alpha 3 domain region which greatly reduces the non specific binding

| | |
| --- | --- |
| Mutated tetramer | |
| Conventional tetramer | |

Diseases:

Cancers: Breast, Prostate, Melanoma, Colon, Lung, Cervical, Ovairian et Leukemia
Autoimmunes

diseases:

Diabetes, Lyme disease, Multiple sclerosis, Rheumatoid arthritis, Autoimmun vitiligo

Alleles available:
Custom products:
Developed to your:
allele
peptide
fluorochrome (PE or APC)
For more informations, please contact our
technical service
!